This original interview was posted about a year ago, man times flies! Miss this guy and the missions we all made together. Read on!
—
The Durban scene will feel different for a while. Some riders come and go, some make an impact – in this case, a huge one. I for one will miss the good times especially the filming and riding sessions. A little piece of Germany was left in Africa with us when Marcel aka 'Makl' went back home.
Makl is an all rounder – a community builder, a party animal and a really good friend and we in the Durban scene are feeling his absence. Talent comes from every corner of the globe and many a filming excursion has resulted in an exciting interview and video edit that will confirm exactly that. So you better kick back, make some coffee, get something to munch on and get ready for it, its a good one…..
Right. Name, age and where you are from please.
Yeah, my name is Marcel `Makl´Heinrich, 27 years and I'm from Germany.
What was reason for your stay in South Africa?
Well, a friend and owner of a BMX store in Bremen (which is the sister city of Durban), approached me with an interesting job: to build Trails/a Dirt-Park in South Africa as part of a youth center that is situated in an underprivileged Zulu village. As I have been involved with trails projects and have been working within development cooperation contexts before, the offer was pretty much perfect for my interests and qualifications. Besides that I enjoy traveling, experiencing new places and learning about different cultures.
How long was your stay?
11 months.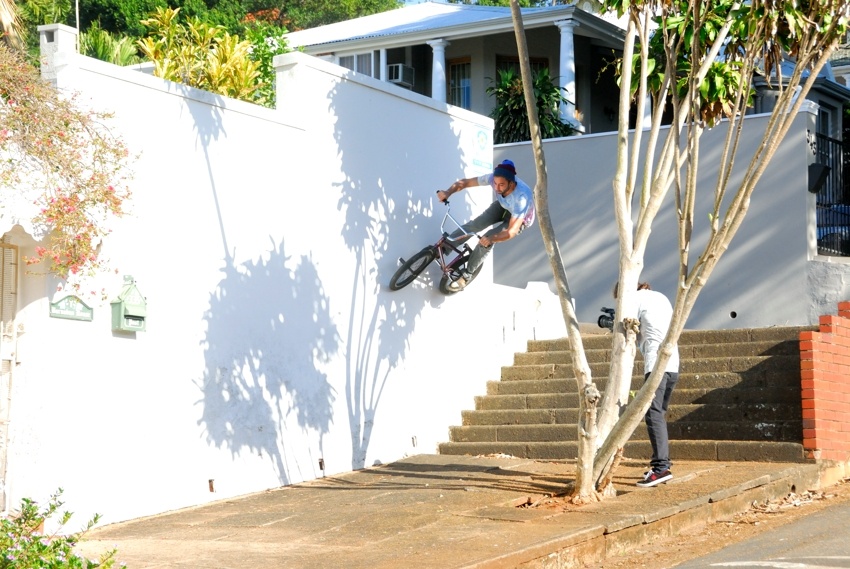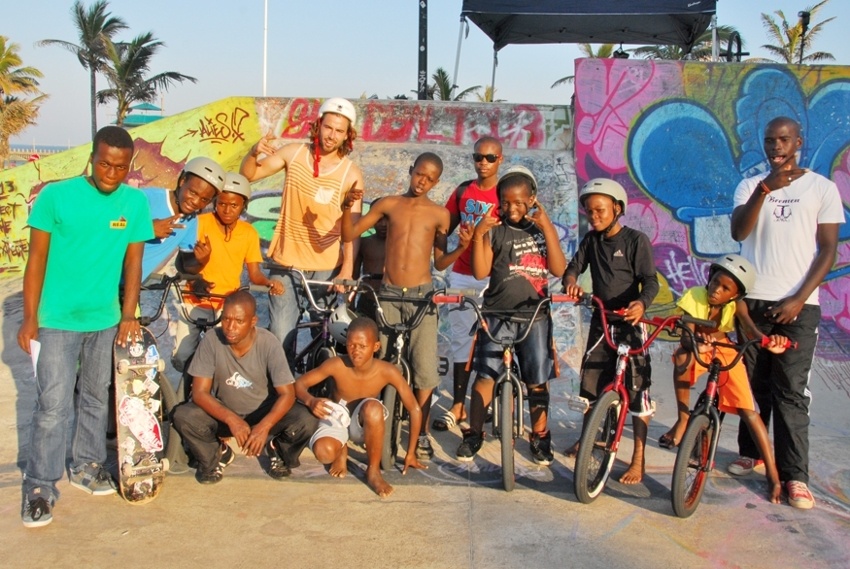 Tell us a little bit more about this youth project you were involved in?
It is basically a youth center that emerged through a local initiative, driven by some Zulu youngsters a couple of years ago. They really put a lot of passion into the project in order to make a difference for the kids in their community. These days, the iSithumba Sportgarten runs a six-day-a-week after school program that includes Soccer, Netball, Volleyball, Table Tennis, Indigenous Games, BMX, Chess and other mentally challenging games. Besides that, there is an art program and of course the School Outreach Program; our coaches visit four schools in the Kwaximba area and do different sports with the learners.
Events, competitions, exchanges and trips are other activities the Sportgarten does and its aim is always to empower the kids and youngsters, so that they will be motivated, get some orientation in life, stay away from bad influences and also gain some experience for the future job life. We try to teach them certain soft skills, as some hard skills as well. So if a kid learns how to repair its bike, it would also learn that it is able to change something, that it is responsible for its environment and capable to help him or herself. This may also be the foundation for a first internship at a bike store that might lead to a proper job one day. The iSithumba Sportgarten also works on cooperation within the outdoor tourism sector, but that is not to relevant at the moment.
In addition to the youth center work, I am involved with an organization called Durban Green Corridor and work within the context of adventure tourism and outdoor education. I have helped to organize a big Adventure Race and also gave my input on a new Skatepark project in KwaMashu that will hopefully pick up some momentum soon.
Where about were you based for work?
Four days a week I live in the Valley of Thousand Hills, 40 minutes away from Durban where the Sportgarten is based. I also do lot of the Green Corridor work from there but also spend some time at eNanda and for meetings, computer work and so on. On the weekends I usually hang out in my living community in Glenwood and yeah, North Beach of course!
When you arrived in S.A your bike was already pretty beat, tell us about your ride!
Oh you think it was beat? Naw, not really…I have had bikes way worse. However, I do not really worry about brands, parts, weight or whatever. I get a bit of support and always stick to the parts available or that I get recommended. Currently I am on a 21.2 tt Mankind Forward frame – I have not had a frame as strong and that did last so long, since I said goodbye to my Dragonfly DFX. German engineering – Vorsprung durch Technik 😉 I love the purple colour, but due to the fact that I am kind of always on the road, the paint got really crackly. It is a long frame because I love flying. The other parts are mostly from Mankind and Sunday and rolling on cinema wheels with faaaaat Animal GLH's. Anyway, due to the humid Durban climate I could use a new set of wheels – there is rust everywhere! Ah and yeah, that crank bolt that is always getting loose, I hate it! And I am brakeless- but love brakes and Abubacas. Yup, that is pretty much what I have to say about my sweet little baby…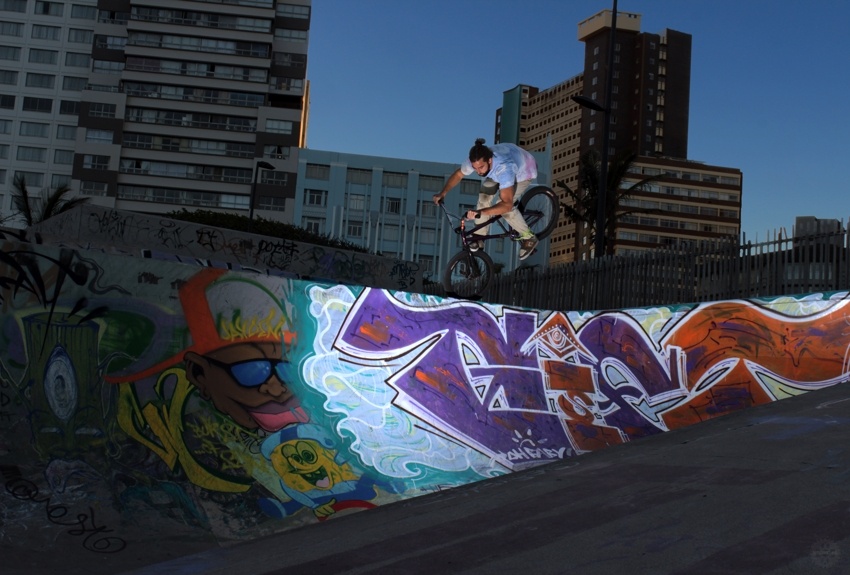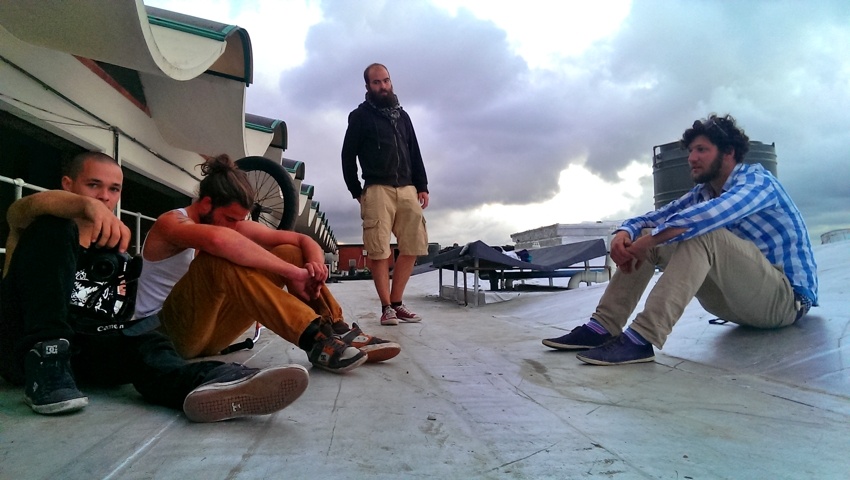 How long have you been riding BMX?
Since February the 14th 2002 – I will never forget that day when I finally had saved enough money to buy that shitty Felt Chronic complete bike. Two months later I had already sold it to get my first KHE Flatland machine. Another two years later I got my first ramp/street bike and got more and more away from my favourite parking lot.
You have a distinct trails-style, have you always ridden trails?
Ok, I already answered that, kind of … Like I said, I started with Flatland together with my brother years ago, but when he stopped, I always had to ride alone. I am from the countryside, so we did not have a real Skatepark, but two little metal ramps, where a couple of Skate punks always hang around. I started chilling with these guys for I was bored of riding alone and from there one thing let to another. I met Bruno Hoffmann, who was a 10 year old kid at that time, by coincidence while being on holiday with my family in the Netherlands and he told me about that big Skatepark his father was about to organise in the city of Siegen that was a twenty minutes drive away from my place. When I got my drivers, I totally switched to hitting the ramps and riding street. I was stoked about riding with all the city guys and being on trips with them.
Also there was an abandoned compound next to my parents place, it made perfect sense for me to build my own jumps. Wood was way to expensive, so I took a shovel and an axe and started digging. Eish, it was silly. Decades ago there had been a factory, the concrete foundation was still beneath the soil. Out of every barrow I made, I lost half the mass due to all the stones I had to sort out. For two years I worked there – most of the time alone and at the end I had seven jumps with berms, a wallride in a nice never ending circle of jumps. That was sick but all the BMXers had no cars to visit me, so I made friendship with the booming Dirtbike scene around my village and got more and more into building and riding trails. Life in the woods is simply the purest way of BMX! You arrive at the spot, you start digging with your friends, you build creative shit that you have dreamed of before and at the end of the day you open your beer, you put your wors on the braaaaai and start making plans for more jumps or trips…
But yeah, I also love hitting a step handrail, jumping stairs or playing around with a curb. I really like riding everything for there is too much fun in BMX that it would be sad just to concentrate only on one direction. And I still have my flatland bike by the way.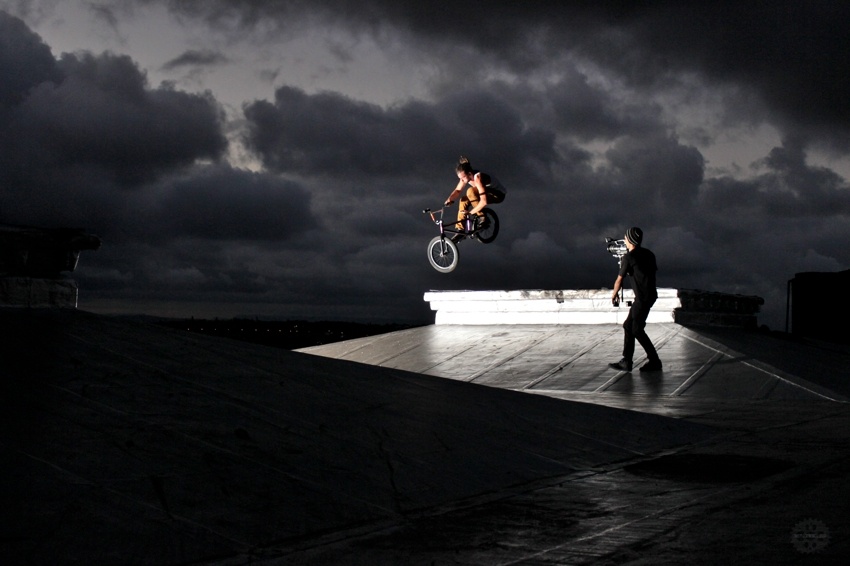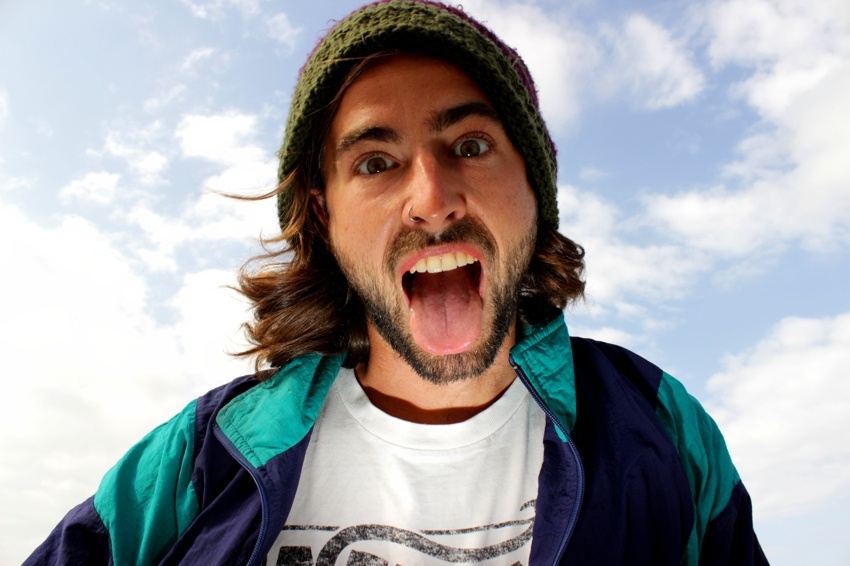 It's a common misconception that Germans love, beer, football and food… are you a typical German?
When I told people back home that I would be leaving for South Africa, most of them had the misconception that all the people down there are black, live in clay huts and ride on elephants all day long… So what is a typical German? I do not know the answer but I know that I am definitely not a typical German although I love beer and have kind of a football hooligan history! Be Esperanto!
Which was your favorite pub in Durban?
Definitely the Winston – Always a sick crowd, cheap beer, good concerts and a very open minded spirit!
You spent alot of time with the Durban locals, which of the dudes do you think parties the hardest?
Felix of course hahaha! Well, Felix is always out on the weekends but as he does not drink he is not as wild as Mr. Schlampe Stuart Loudon. I have been out with him a couple of times in Pretoria and Durban and YES! He is hectic! Love it!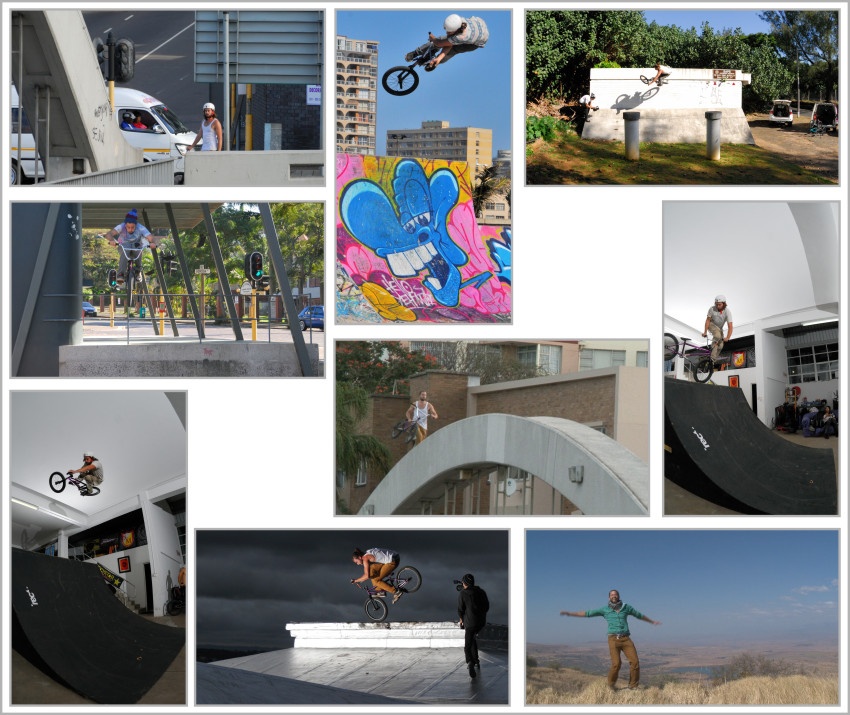 What did you like about our BMX scene?
The SA scene is very open minded and chilled. It is way more underground and subculture-like than the German scene. It is a bit like seven or eight years ago. It was amazing how much support I got during my time in SA and it was a good feeling to be part of the Durban scene! I have to say thanks for all the open hands that I was honored to shake. However, if I could change one thing I would definitely like the SA scene to have more trails and trail riders – especially around Durban. I really missed that part of BMX while down in KZN.
Tell us a story about something that happened during your time here.
Well I would love to mention the Build & Ride weekend we had in iSithumba when a couple of riders came out to the valley to start building the dirtpark together with our kids….but I have to be honest, the highlight has to be, a rider who became a close friend of mine got a tattoo on his ass that would ensure I would remember all the good times we had. The tattoo was done in my handwriting saying: "Abgefickte Fotzenschlampe" You guys should know the meaning by now 😉 Definitely a highlight of my stay and very Bundesliga!
If there was one thing you could change about S.A, what would it be?
Racism and Inequality – Yes I am aware that I mentioned two things, but you cannot change one thing while leaving the other. And by the way, I am speaking about white AND black racism.
If there were one thing you could take back to Germany with you, what would it be?
North Beach with all the locals.
As a visitor what was your favorite thing about S.A?
Probably all the diverse and beautiful nature that you guys have. I love how quickly the scenery and landscape changes all the time while driving around. The Drakensberg, the Route 62, Eastern Cape, Richards Bay … there were way to many wonderful areas to mention them all…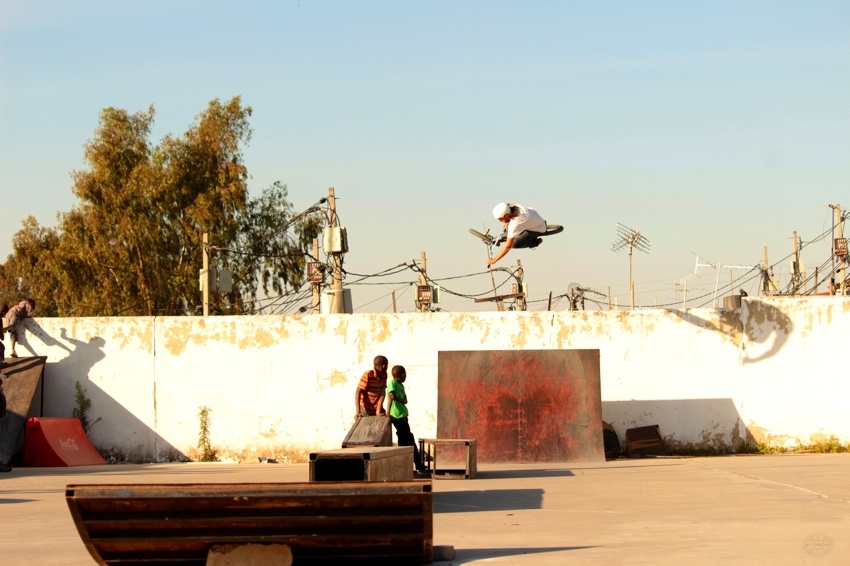 Name your top 3 spots you got to ride in South Africa?
That is easy: 1. Durban North Beach, 2. Secret Spot in the Drakensberg and then  3. Township Skatepark in Alexandra
For your upcoming BMX edit you wanted it to be something quite personal.  Obviously this edit will show a part of the experiences you had here. Tell us about your music choice and what we can expect to see in it?
I know that I am not a rider who has the skills to produce a banging three minutes edit that will make it into the TOP 3 of all time on TCU, so I rather tried to keep it on a personal limit that one day I can show it to my grand children and have a memory about my time in SA. I am really grateful that I had the chance to have Hank around me for all the months to document most of the places I have visited and ridden. I also wanted to have some not-riding footage in it, to show my people back home that not everybody is riding on elephants and give them an impression about the environment I have been living in. It will be a documentation about what I have been experienced, where I have lived and what I came to ride. It covers pretty much a period of almost eight months and includes many of the missions we made. Therefore the footage will be quite diverse spot wise and of course the sun is always shining! Its Africa my mates!
The edit will include three songs which is quite a lot and I hope people will not be bored. The first song is the famous township kwaito vibe "via orlando" which me and my German workmate Phillip always used to listen to. We really had some dance floor escalation in a shady shabeen in Soweto – will never forget that night! The second song is some Rock´n Roll but to be honest – as we did chose the music already two months ago, I have already forgotten the second song. It will be a surprise for me too. Song number three is Elton John – I'm still standing. I have always loved Elton as he was my fathers favourite musician. When Hank came and suggested that song, it just sounded perfect. And of course I'm still standing for I have survived my African experience…hahaha!
So what's next?
Well, returning to Germany and earning some bucks through organising BMX-camps and working at a climbing garden. After that I will be doing my Sailing license and return to university in order to finish my MA Degree in Adventure Education. There is definitely a plan to re-visit Nepal next year and one day I might have a proper job…
Do you have any any sponsors?
Not really sponsors but I get some flow from Infaction and Unity BMX distribution.
Shout outs and thanks.
I have to say thanks to my parents for accepting and supporting the way of life that I chose. To my wonderful lady Selin for being part of my life and coming down with me to SA. To my friends Kalle, Joschi, Marius and Paula for visiting me as well, Philipp for becoming a good workmate and great friend. Cocoa for bringing noise to the Bremenhaus. BMX Direct for supporting the Sportgarten BMX project big time and to all the North Beach BMX and Skate locals for making me feel home at the beach and all their open mindedness. To Rico for letting 14 dirty BMXers stay at his place at the Joburg trip.  To the whole iSithumba community for allowing me to be with their kids and welcoming me in the way they did. Especially Thola, Tabile, Bongi, Squpu, Nqo, Napa, Innocent, Bleh, Zandile, Sparks, Jeffrey and everyone else – Thanks!
Shoutouts to my flatmates from the Bremen house, my homies in Germany, Yannick of course, Selin'in ailesi, kickassbtx, ironfieldbmx, Fettarmemilch, AB Trails, Sturmbahn and Flöha locals, Zieschla and Magga from Alliance BMX, Sören and Iza from Infaction, Christoph from Unity, Skabanga!, Buddy Chelan, all the Joburg/Pretoria locals and biiigggggg shoutouts to my Schlampe from Empangeni AT! Damn it is so tricky to not forget anyone but I really tried my best…
We wish you all the best Makl, keep up the awesome work you are doing.