Check it out. Here's what went down at The Night Harvest!
Cape Town, South Africa: 9th march 2015 – It had been a long week leading up to The Night Harvest for the crew, with the extent of the fires blazing through Cape Town and the builders helping friends and family evacuate their houses in Hout Bay, their wasn't always that many hands preparing the jumps however they pulled it off in complete style.
When returning to events year after year organisers must always have fresh ideas and change aspects of their show, and that is exactly what The Night Harvest did.
From the roll in (where the riders start from leading into the jumps), to adding in more jumps, taking the whale tail away and also increasing the amount of international riders was just the beginning. The Night Harvest up't their game again by bringing an international sponsor, DMR Bikes, onto the bill. Its great for the sport locally, but The Night Harvest also creates excitement for the sport internationally. They didn't even stop there, they also invited Catfish back to South Africa just to commentate next to local radio presenter Kai Linder.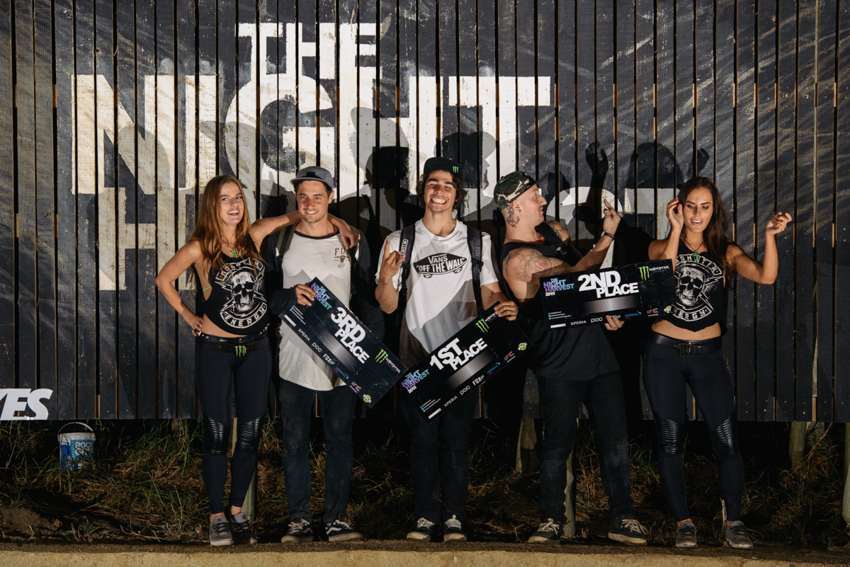 It was a calm night with the weather gods being on our side allowing for some insane warm up heats before heading off to the final rounds..
Round one of the Free Style Mountain Bikes (MTB) saw some insane backflips, whips, 360s and even a front flips pulled by Danny P. It was insane.. The crowds went mental and the riders showed off some insane skill. Among those top 1- were 4 local boys who really stood out.. Of course the 2 Neetling brothers, Jonty and Andrew, Thomas Sandel who was blowing the commentators minds and of course local Potato Trails rider and builder, Justin Novella, who ended up walking away with the award for Best local rider in the MTB category.
The guy they refer to as ZimBlake aka Blake Samson, who was born in Zimbabwe and now lives in the isle of white, has also travelled all the way to the tip of Africa to compete. He was extremely glad to be back in South Africa, to be travelling around, filming and seeing what The Night Harvest had to offer. "It was a little tough under the eyes at first", he said, "but once they adjusted to the light it became a lot easier to start pulling some tricks for the crowds. Sadly I only finished 4th over all but it was an awesome night out shredding with my buddies."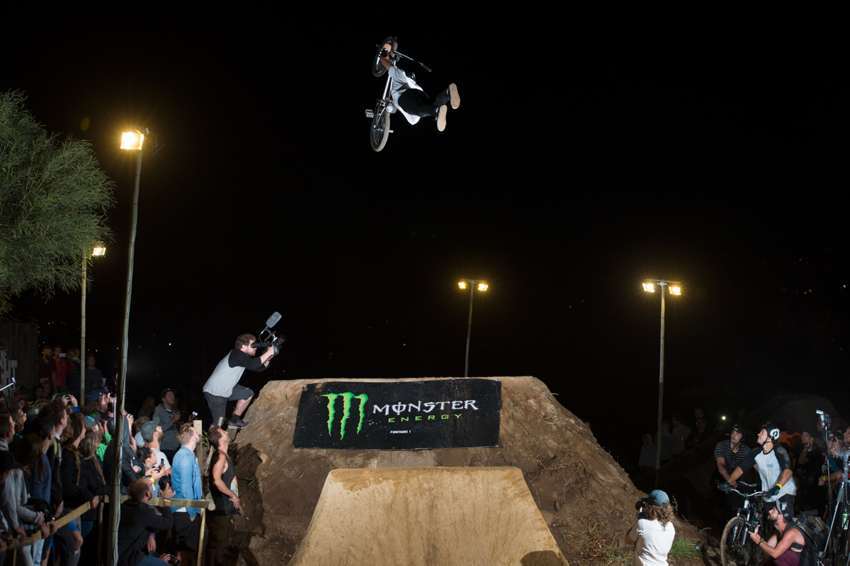 The BMX riders were up next and all locals were shouting for local but now international rider Greg Illingworth. He had a big crash during the night but they never stops hm from going big, its just who he is. The BMX category boasted a lot of local and international talent however no one could keep up with one in particular rider. Kevin Peraza, has travelled all the way from Tucson, Arizona to be in South Africa and in his first couple of runs he was already pulling, backflips, 360s and 360 triple whips. He was unstoppable. He boasts so much skill and is the most down to earth rider we have ever met and when catching up with him after he had this to say; "The Night Harvest was rad! The combined MTB and BMX session in the beginning was good and the Jam format made the event more chilled and gave me time to focus on the tricks. Best trick was soo gnarly, i just wish the landing wasn't so soft for my small 20" wheels. I was super surprised to see so many spectators, its always great riding for them, and they even stayed through all the wind. The event was so dialled that you will definitely see me returning in 2016, I love Cape Town."
Round 2 for the MTB riders saw Canadian Matt MacDuff turned up the heat and start pulling out some big airs and some massive tricks putting pressure on defending champion Sam Reynolds who would have to keep up. The 2 of them were pulling out some insane tricks when mother nature decided to have her say.
The wind slowed things down for a while and it was on the judges to make the call if we were going to wait or move on to best trick.
After 5 minutes or so the call was made to move onto best trick where only a few riders took part.
The wind was still pretty gnarly but that didn't stop some of the guys taking part.
Sam Reynolds and Matt MacDuff stole the show by pushing each other by doing bigger and bigger tricks. The fans minds were absolutely blown by the calibre of riding that they just witnessed before their very eyes.
Its a pity mother nature never held out for the whole evening but as they say – the show must go on – and so it did.
Jam Final results:
MTB
1. Matt MacDuff
2. Sam Reynolds
3. Danny Pace
BMX
1. Kevin Peraza
2. Ben Hennon
3. Matt Priest
Best Trick went to Sam Reynolds for pulling an extremely styling 360 flip.
The sponsors must be mentioned as with out them something like this could never have been brought to Cape Town.
Monster Energy, XPERIA, Imperial Ford, Cape Frame Work Constructers, The Pole Yard,POC, FOX, DMR Bikes and Cape Audio College.