So, with The Street Series by Monster Energy and Dub BMX a day away I decided that because I don't ride anything over knee high, I'd dust off the old D50, take some photos and basically get in everyone's way…
Before we go any further, there was a lot going on and if I don't mention you or something you did, please excuse me. Lots of riders did good stuff, loads of other people saw it, you should be proud.
The day started with a location change, because we didn't want to be busted at H-street and be followed around town by cops on horses. This has happened before and it's not very fun. So we started in Sea Point at the Library rail and some heavy moves went down on the setup there. Locals like Dean, Felix and Werner did some stuff down it and some random kid on a red bike crashed at least 15 pedal grind attempts. He had almost no bike control but kept throwing himself at the rail. He's def got more balls than me and had everyone amped.
Tricks at Spot One: Zunda – Rail hard 360 and smooth hangers, Benny – everything both reg and opp, Paul Ryan – Rail bars, Rail hard 180, Dean Bailey – Rail bars, Up rail, Felix – Ice Pick, Werner – Pegs.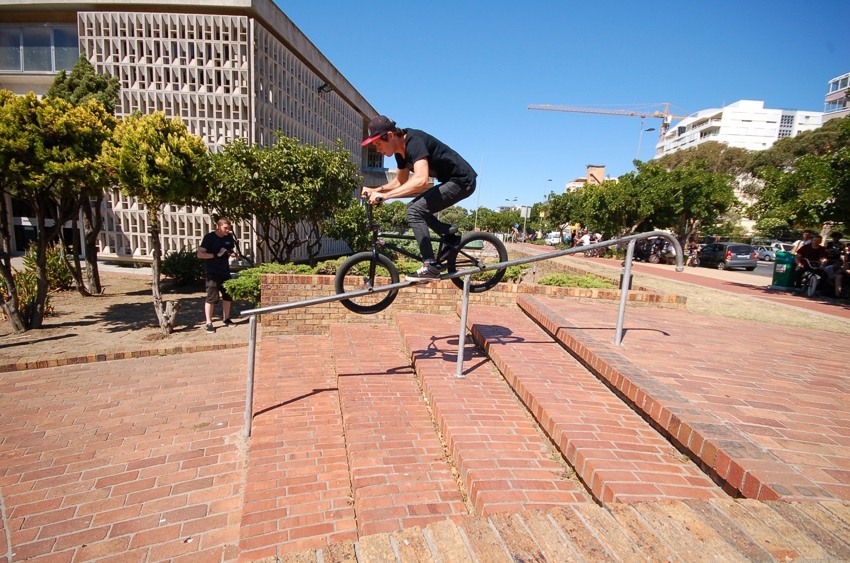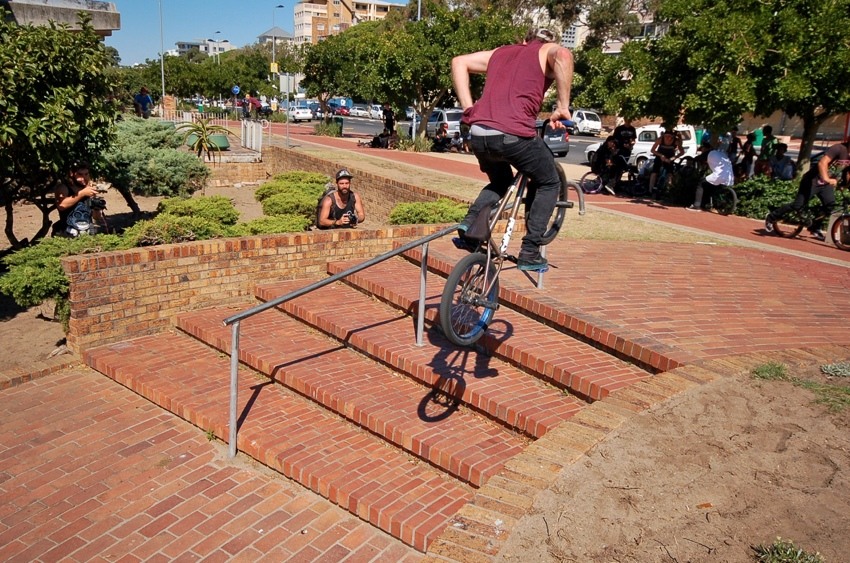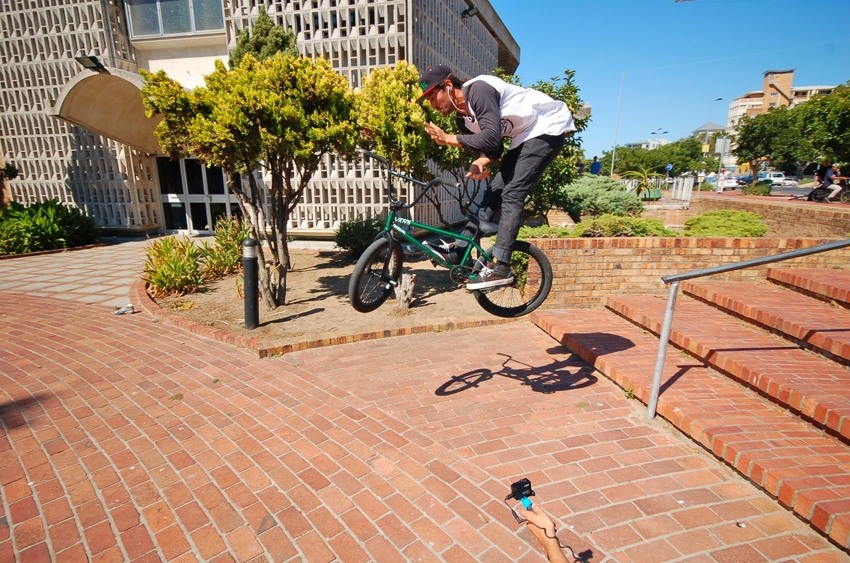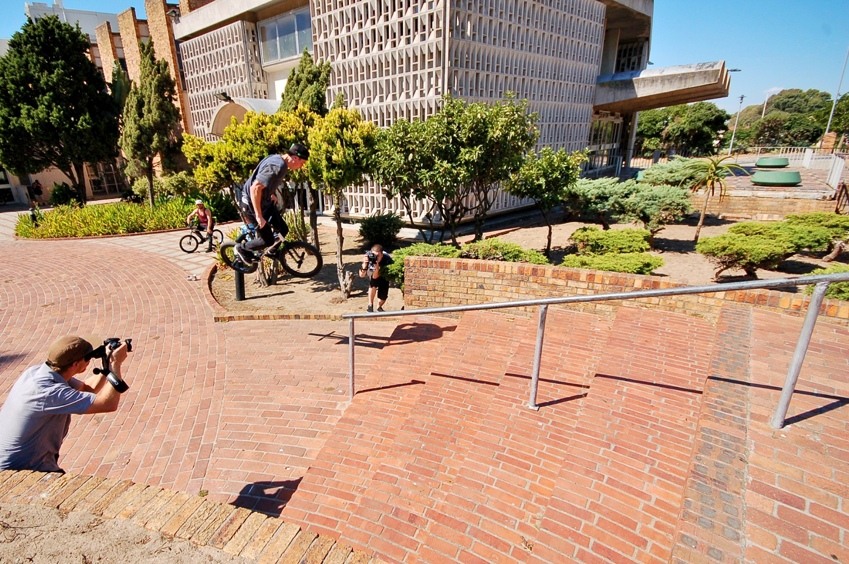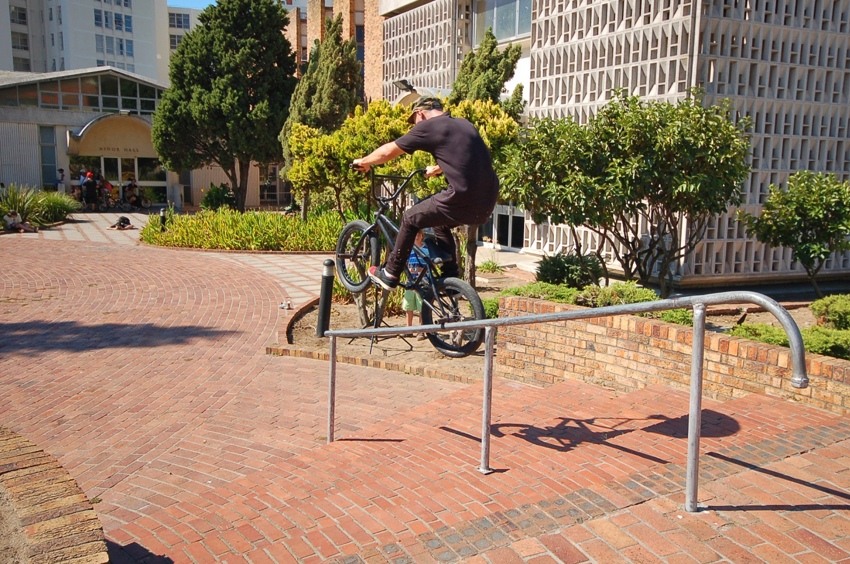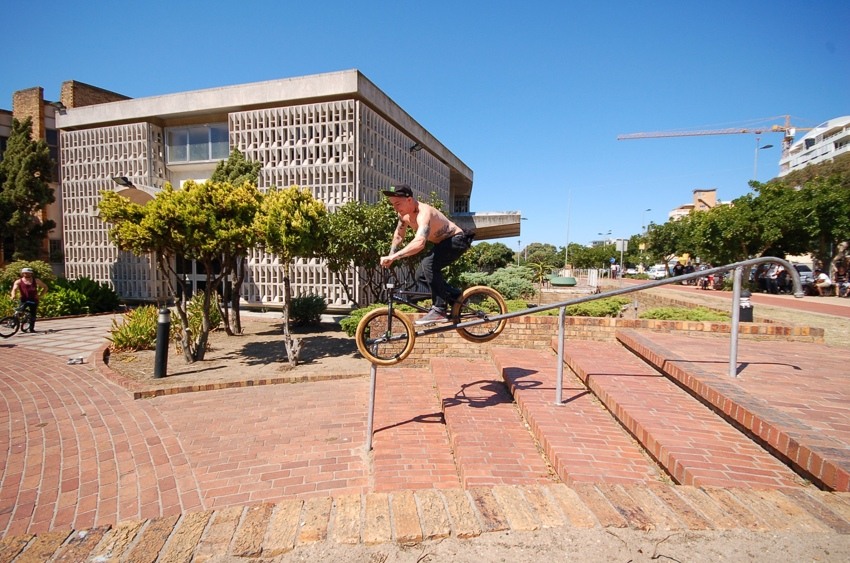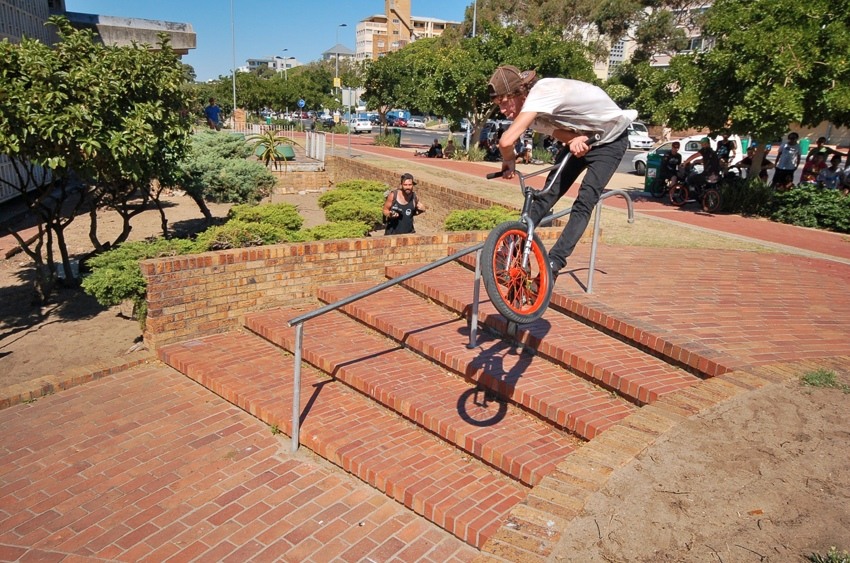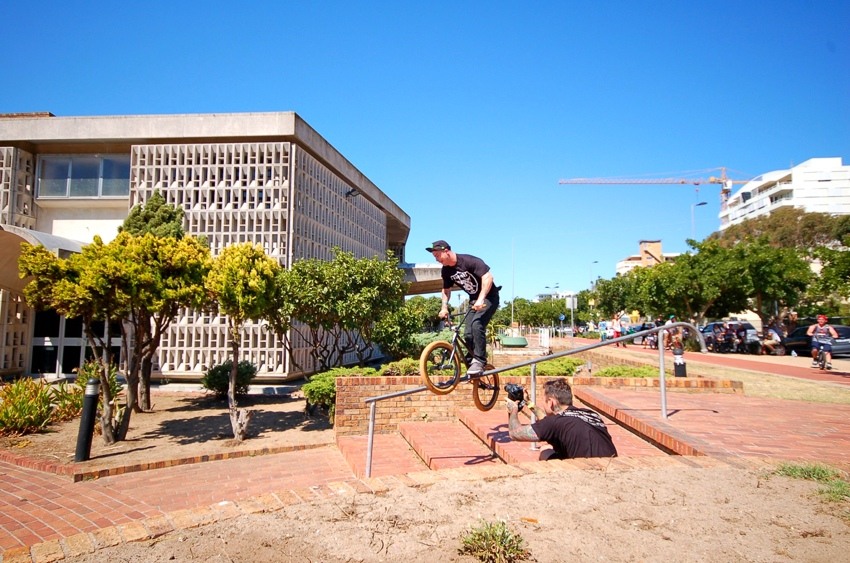 Spot 2 was under the round about at the Cape Town Stadium. This place has been a bust from some time but with the closure of the MyCiti ticket office there and the theft of the CCTV cameras, we had nothing to stop us. The ledges are long, curved and damn fun to ride. Loads of manuals to everything went down here. Benny is the only person that I know who has made it around the whole thing and he 360'ed out like it was nothing.
Zunda did a real good line of a nollie off the surrounding wall to smith the inside ledge to pop up nose manual along the ledge to bars off the other side. Real hard to explain but real good to witness. Everyone had stuff here including Stu, Paul Ryan, Mattheeeee being standouts and Adrian Burt jumped off the second? level of the road to flat. Pretty nuts. Kalkoff did a great manual to drop down feeble hard 180 out which was nice and tech.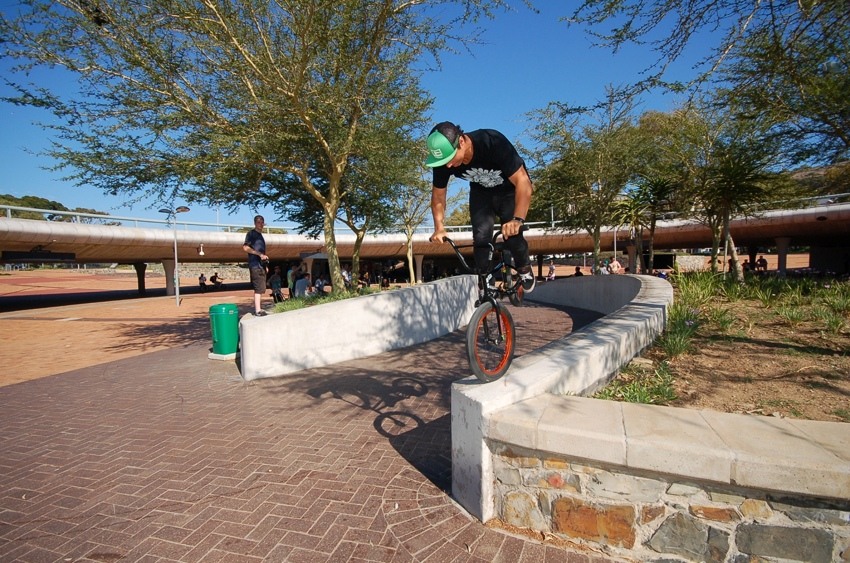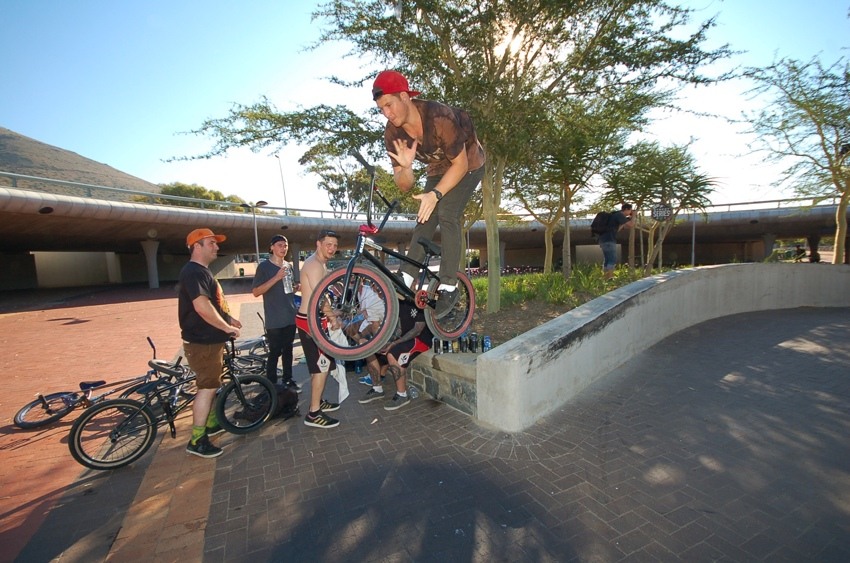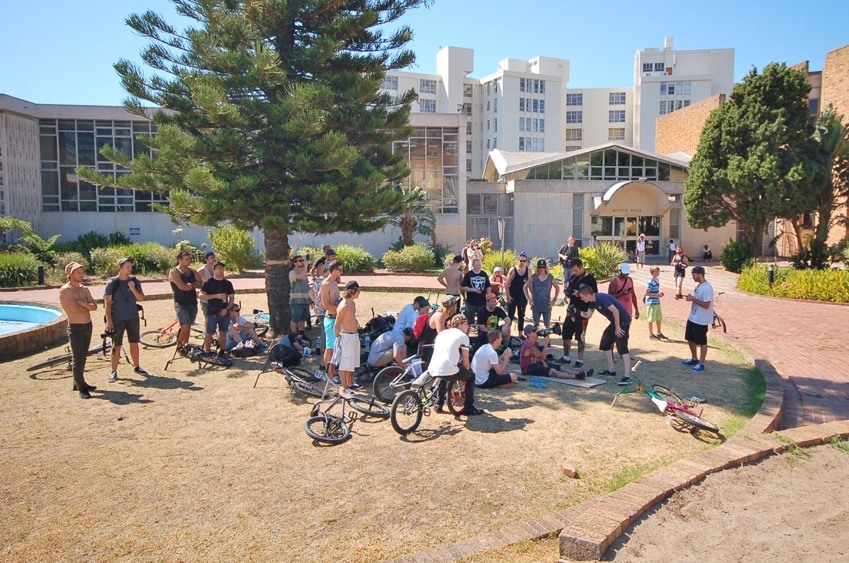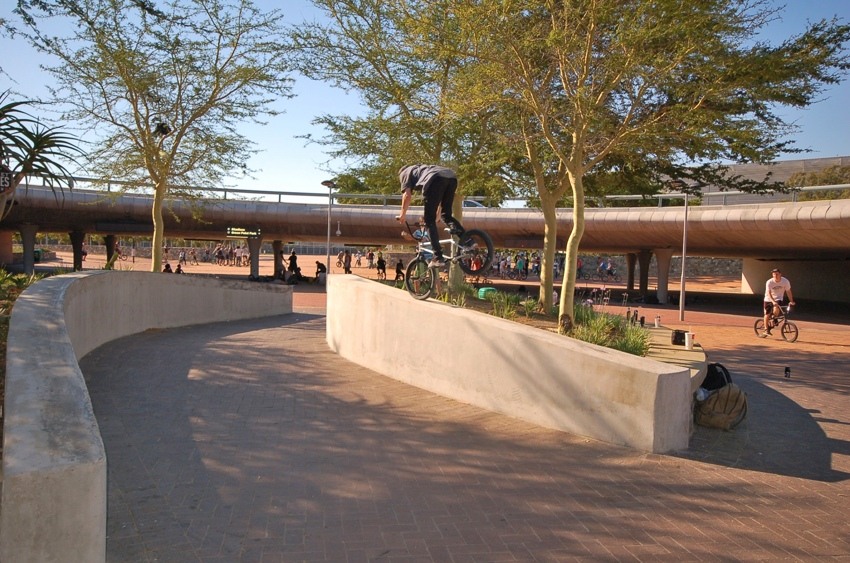 Spot 3 was supposed to be Thaibult Square but when we rolled up there was a TV ad being shot. They were not too happy to see 150 BMX riders roll onto set. So we basically road straight through the middle of them and headed off to H-street / Civic Center. A heavy session went down on the stairs at H-street with the SA guys really throwing down. Paul Sunderland and Hann we're doing fakies and halfcabs off the sets and doing it right. Benny hanger'ed the short rails, Paul Ryan 180 bars over the rail and Nollie bars'ed them too while Zunda bump 360'ed up a 6 set. Other locals like Morgan and friends whipped, bars'ed and 180 bars'ed the sets too. Good stuff.
Benny and Dean sessioned the hubber too. Dean did some pegs down it before pulling his hamstring and Benny opp pegs and opp Ice Picked it too. Then Zunda eyed the double set around the corner. This is a 3 flat 5 set and it's pretty long. He 360'ed it, second go with too much style. Morgan and co did loads of combos and lines down the set like bars the 3 to whip the 5 and Felix got towed in by Greg on the scooter and blasted a gap into the street. Stu did a great Smith to manual to bars the 3 to 180 bars the 5. So clean and 1st go. Hann eyed up a massive stair gap to second stage firecracker. This had EVERYONE nervous because if he was to crash he would die, no sh!t. It was so scary that myself, Zunda, Paul and Benny went for a beer so we wouldn't have to witness it. When we got back Hann was still eyeing it up but luckily decided to leave it. I have mad respect that he even went up there and took a few runs at it but I'm glad he walked down. It could have been real bad and a sh!tty end to the day.
After that was prize giving, sticker toss and loads of high 5's. It was a great day, seeing riders from across Cape Town who I haven't seen for a while and seeing the guys come from PE and Jhb to session our spots.
Thanks for Monster Energy, Dub BMX and everyone who made the day really, really great. The winners were Zunda, Benny and then Paul with Werner getting some free tees and dvd for taking it to the nuts on the Sea Point rail.
Photos and Editorial by James Brawn