Ultimate X 2014 is coming up fast. I got the scoop from the main man Markus Museler on what he has in store for the BMX setup this year.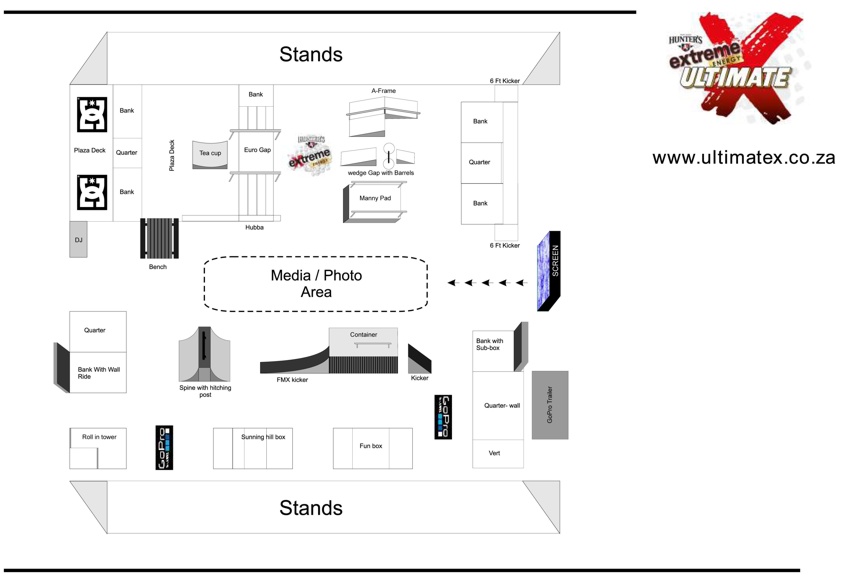 How does the BMX course look for this years event?
See the above image, will change slightly with a few added Unique features.
Who had a hand in the layout and design?
Myself, a few of the Pro riders & Brent @ Pro Ramps
How many BMX riders can we expect to see competing at the Ultimate X?
This year we have SA's top 15 & 5 International BMXers competing – 20 in total
The question everyone is asking; which internationals will be competing?
Greg Illingworth, Paul Ryan, Matthias Dondias, Ed Zunda, Ben Lewis, Maxime Charveron.
Will the skaters and BMX riders be sharing the park this year?
The park is designed to be able to use both sections, But most of the action will happen in the designated BMX Gauntlet area.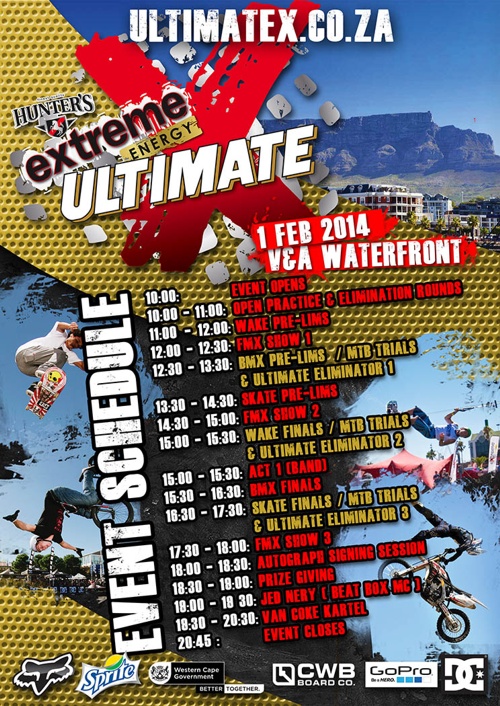 Who should we be looking out for at this years event?
I'm looking @ Moe Peters & Our Ultimate X Athlete David Rigby … But going to be Touch Comp this year
Whats the deal with the "Wild card" slot?
We put a Social Media Vote out on 5 x SA BMX'ers & the public voted on Roscoe Siebers from PE took the Card.
Who are some of the sponsors involved?
GO Pro ( World of Heroes SA) have taken ownership of the BMX section this year & then Hunters eXtreme Event title Sponsor
What do tickets cost and where can we buy?
R150 @ Computicket & R200 at the door on the day – Under 8> R60
Advice for those attending?
Bring Suncream/ Cameras / Get there early & Be ready for the best Ultimate X yet !
Where can we find out more?
FB Page – https://www.facebook.com/HuntersEXtremeUltimateX
FB Event – https://www.facebook.com/events/167115603487249/
Twitter – @Ultimate_X_
Instagram – @Ultimate_X_CT
Web – www.ultimateX.co.za
Thanks Markus, see ya on the 1st!
A few things to remember about this event:
It is an invite only contest
Pro athletes are only allowed to compete
1day event
Tickets are available at the gate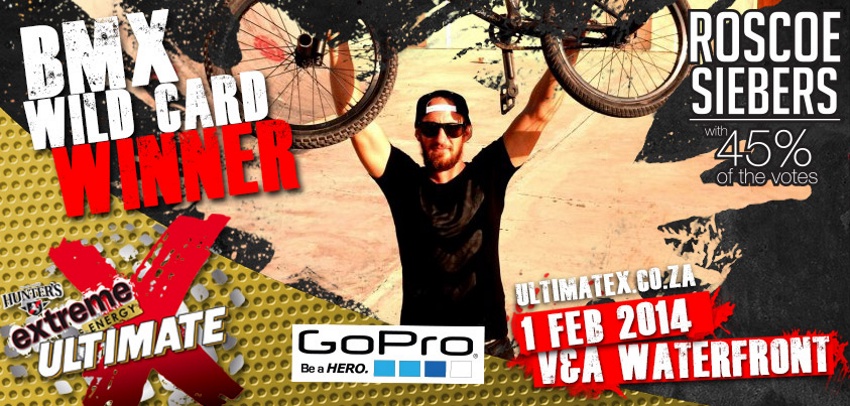 Here is the 2013 BMX Direct Video Edit from last years Ultimate X: