Today is a good day. Our scene has been in desperate need of a local magazine for a very long time. With the help of a few dedicated individuals I headed up the task of launching a FREE printed rag called "Issue Won". Free!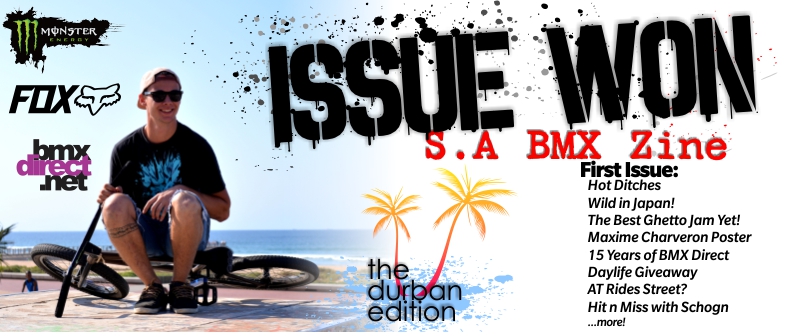 Not really a magazine nor a 'zine' in the true sense. More of an attempt to draw the local BMX scene into a tighter more connected community. For a long time, we as riders have been separated by a lack of motivation and loss of direction. Yes we are scattered far and wide all over this beautiful country, however it does not mean that we cannot climb on a bus or plane and hangout in other towns, chill with like minded people or simply take in something new and exciting. To travel, is to breathe!
Ultimately the goal we hope to achieve with this, is to bring BMX closer, stronger and more connected than ever before. I really do think it is possible with this publication. Get it out there, show people what BMX is about, its fun and real! Drawing from sources far and wide, we hope to you bring a cool reading experience as well as some quality images provided by some of the best BMX photographers in the country.
So get a copy at your favorite BMX store, Fox S.A shop(PTA, CT or DBN) or other selected outlets. (More to be announced soon)
A little bit about our Mag: "The Durban Edition"
It's FREE! Its full color, A5 size. 16 pages of all BMX goodness. Every issue will feature a color pull out poster.
The first issue is all about Durban. Riders, spots, events… It's pretty Jam packed.
There are some rad features in this issue:
– Exclusive: Hot Ditch's with Colin, Kevin and Maxime Charveron.
– 5 things
– 15 years of BMX Direct
– Hit 'n miss with Schögn
– Andrew Taylor rides street?
– Maxime Charveron pull out poster
– BMX Day event announcement
– Feature: Wild in Japan!
– Dreamin' of Ghetto Jam
– plus more!
Wait, did I mention it's FREE!!
Add a copy to your Cart now!

Follow Issue Won on Instagram! @Issuewon or on Facebook – Issue Won